Product Detail
Product Tags
Malic acid is an organic compound with the molecular formula C4H6O5. It contributes to the pleasantly sour taste of fruits, and is used as a food additive. Malic acid has two stereoisomeric forms (L- and D-enantiomers), though only the L-isomer exists naturally.
Malic Acid has a strong hygroscopic, soluble in water and ethanol. There is a special pleasant acidity. 
1.Malic Acid taste is close to the natural apples sour, compared with citric acid, with acidity, flavor and soft, long residence time, etc., have been widely used in high-end beverage, food and other industries.
2.Malic Acid, citric acid cycle intermediates organism, can participate in the process of fermentation of a microorganism can be used as a carbon source for microbial growth, and therefore can be used in food fermentation agent. Yeast can be done for example growth-promoting agent may also be added to fermented milk.
3.Malic Acid can produce pectin gel effect, it can be used to make fruit cake, jam and jelly gel state purees, etc.
(1)In food industry: it can be used in the processing and concoction of beverage, liqueur, fruit juice and the manufacture of candy and jam etc. It also has effects of bacteria inhibition and antisepsis and can remove tartrate during wine brewing.
(2) In tobacco industry: malic acid derivative (such as esters) can improve the aroma of tobacco.
(3)In pharmaceutical industry: the troches and syrup compounded with malic acid have fruit taste and can facilitate their absorption and diffusion in the body.
(4) Daily chemical industry: as a good complexing agent, it can be used for toothpaste formula, spice synthesis formulas and so on. It also can be used as a deodorant and detergent ingredients. As a food additive, malic acid is an essential food ingredient in our food supply.As a leading food additives and food ingredients supplier in China, we can provide you with high quality malic .
| | |
| --- | --- |
| Item | Standard |
| Appearance | White or nearly white,crystalline powder or granules having a strong acid taste |
| Assay (as C4H6O5) | 99.0%~100.5% |
| Chemical Name | DL-hydroxy butanedioic acid |
| Arsenic | 2mg/kg Max |
| Fumaric Acid | 1.0%Max |
| Maleic Acid | 0.05%Max |
| Water-insoluble Matter | 0.1%Max |
| MAIN FUNCTION AND PURPOSE | DL-Malic acid can be used as an acidulant in cool drinks (including lactobacillus drinks, milk drinks, carbonated drinks, cola), frozen foods (including sherbet and ice cream),processed foods (including wine and mayonnaise). It is used as color-keeper and antiseptic of juice. It is also used as emulsion stabilizer of egg yolk. DL-Malic acid also can be used as pharmaceutical intermediate, cosmetic,rinse, metal cleaner, buffering agent, retarder in textile industry, fluorescent whitening agent of polyester fibre. |
| Lead | 2mg/kg Max |
| Storage | Kept airtightly in a light-proof, dry and cool place. |
| Packing | 25KG net in Kraft/Plastic Bag lined with PE bag, 17MT/20FCL(on pallet) or 19MT/20FCL(without pallet). |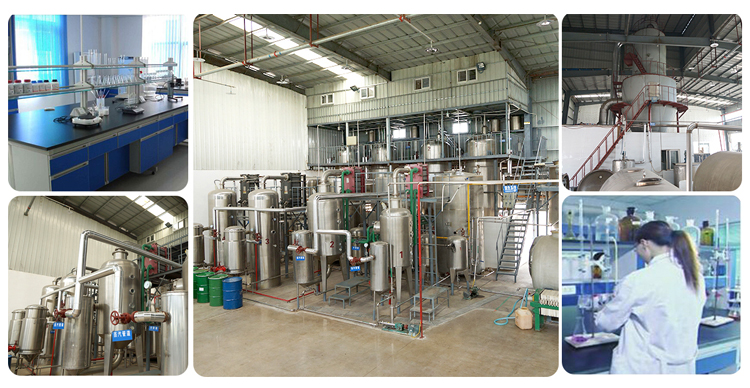 Logistics picture display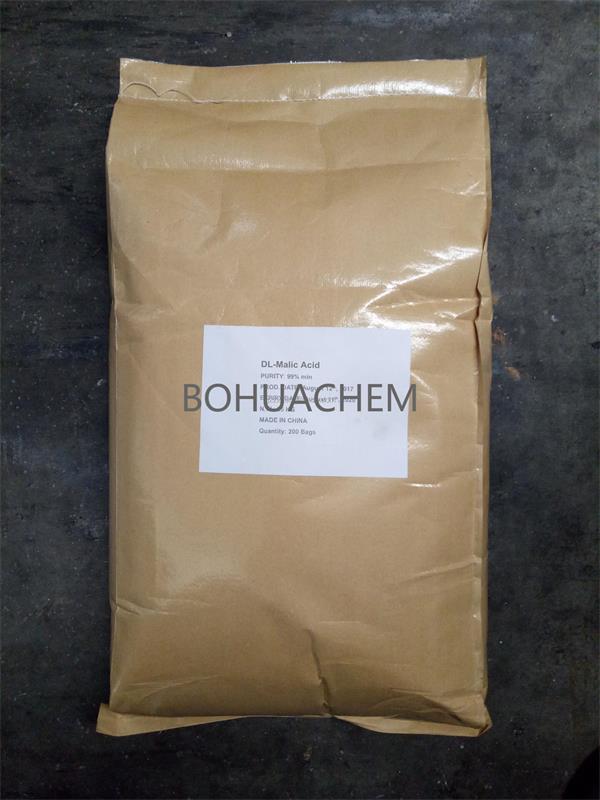 ---
Next:
Fumaric Acid
---
Write your message here and send it to us